Mr. X, 27 years old came in for consultation in January 2013, and gave the following chronology of his malady. He started with recurrent episodes of fever in July 2011. The fever was accompanied by excruciating leg pains which worsened on walking, prevented him from sleeping while got better with massage. His immense weakness would compel him to lie down most of the times. Modern medicines helped him to an extent with his fever, but then his relapsing state in spite of them, demanded few crucial investigations, which diagnosed him with chronic myeloid leukemia in August 2011. Now since a year he has:
Severely lowered platelet counts
Recurrent mouth ulcers
Since a long time he started getting swelling of face, around the eyes, on the side he lies down on.
He got treated for his leukemia in reputed hospitals, and was given an ultimatum of just 1-2 months to live more in November 2012. He restituted for a second opinion and was given many platelet transfusions, but in vain as his platelet count was as low as 14,000.
His diet constituted of only tea and biscuit. His thirst decreased during heat stage, but he felt thirsty in sweat stage and when he had no fever. Chronically constipated but ended up with diarrhea on taking eggs, cheese or spicy food. He had lost 10 kilos of weight in the last 9 months. He is sensitive to cold; sweated profusely in his sleep.
He disliked talking and got irritated on been disturbed. He missed his late parents. His mother expired of heart attack and his father of asthma.
His extensive case details demanded a prescription of China .
After a fortnight his platelet count started improving steadily and on 10th day of treatment it was 66000 and then to 276000. Fever and mouth ulcers disappeared completely, swelling of the face went down and he was having sound sleep with no pains whatsoever. He was then given China in increased potency and within a month he was much better and the oncologist was of the opinion that his case of leukemia was reverting from an accelerated phase to chronic phase.
Evidence of before the treatment and before the treatment: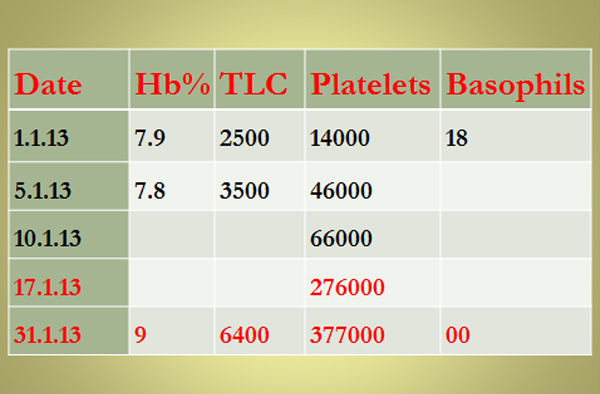 He was kept under observation for long time. He lived until November 2013 for quite a while, than he was supposed to with the renewed essence of life bestowed by Homeopathic medicines.