WHAT IS DEAFNESS (HEARING LOSS)?
According to the World Health Organization, Hearing Loss is one of the 6 leading contributors to the global burden of disease.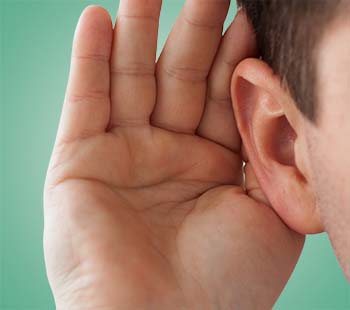 Deafness or hardness of hearing/ hearing impairment/hearing loss is partial or total inability to hear, which can be sudden or gradual.
It is caused by many factors which can be:
Congenital (present at birth)
Acquired (comes up later in life)
Deafness is described as mild, moderate and profound depending upon the severity of hearing loss which is expressed in decibels (dB).
Depending upon the cause, it can be temporary or permanent.
Click to read Causes of Deafness (Hearing Loss).
Homeopathy is extremely proficient in treating cases of deafness of varying intensities, types and causes. The key to effective Treatment is to understand the evolution of deafness in the individual and plan treatment accordingly.
WHAT HAPPENS IN DEAFNESS (HEARING LOSS)?
QUICK LOOK
Feeling of plugging in ears
Difficulty in understanding what people are saying, especially when there is background noise or in a crowd of people
Tendency to ask others to speak slowly, clearly and loudly
Need to turn up the volume of television or radio
Know more about Symptoms of Deafness (Hearing Loss).
WHAT CAN DEAFNESS LEAD TO?
Ignoring the early warning signs of Deafness can have a deleterious impact on the overall quality of life. The complications manifest more on the emotional and ergonomic (occupational) levels and include:
Depression, with feelings of loneliness and frustration
Anxiety and low self-esteem
Lower grades of employment as compared to others
HOW WELL HOMEOPATHY WORKS IN TREATMENT FOR DEAFNESS (HEARING LOSS)
Homeopathy is a mode of treatment that supports your body's own healing mechanism. A homeopathic remedy is an extremely pure, natural substance which is not only safe and free from side effects, but it will trigger the body to heal itself.
Homeopathic Treatment for Deafness (Hearing Loss) can improve your quality of life. It shall help you gain:
Greater self-confidence
Closer relationships with loved ones
Improved outlook on life
Few Of Our Amazing Remedies Include:
Belladonna: Hearing loss is experienced more on the right side and is accompanied by pain. Humming, roaring and ringing nosies in ears with intolerance to sounds. Hears one's own voice in ears.
Spigelia: Left-sided symptoms with noises in ear of the roaring or buzzing type. Pulsating sensation along with congestion. Tendency to periodic deafness.
Hepar Sulphuricum: Painful earaches, sensitive to wind and touch. Whizzing, throbbing and roaring sounds in ears.
Kali Muriaticum: Block in the Eustachian tube leading to deafness.