WHAT IS PICA?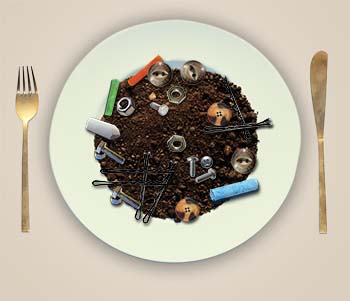 PICA is the term given to the extensive habit of eating anything which is not nutritive.
Yes, this is the name given to the habits like children eating mud, which we see very often in our daily life.
But, PICA is not only about Kids or Mud...!
Even adults have these pica habits and that too with a variety of things...which can be very dangerous for health!
The most affected group of population is children and women!
Most common things eaten are paper, hair, nails, pins, coins, bulb, etc.
When they are operated upon, you get a huge collection of these items in the stomach.
Sometimes it can block the entire passage giving severe pain and complications.
It is extremely common and found all over the world! Click to read about causes of Pica.
WHAT HAPPENS IN PICA?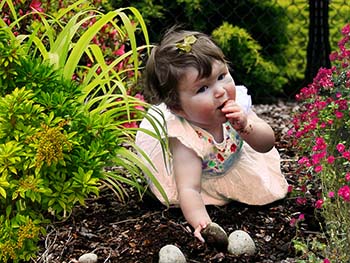 Quick Look
Constant desire for any particular thing which is not nutritive
Mostly anaemic body condition
Loss of appetite
Nausea & vomiting
Stomach upsets, pain, diarrhoea or constipation frequently
Bleeding inside the intestinal tract
Click to know more about Symptoms of Pica
WHAT PICA CAN LEAD TO?
It seems that such habits are not harmful, but there can be very dangerous outcomes like:
Anaemia
Heavy metal poisoning like lead poisoning
Worms in stomach
Damage inside the food tract in body which results in bleeding
Dental damage
HOW WELL DOES HOMEOPATHY WORK IN PICA?
Homeopathy offers the most comprehensive & rational solution for this rather embarrassing condition.
Homeopathic approach to pica is based on the belief that Pica occurs due to certain imbalances or deficiencies in the individual.
Homeopathic treatment for Pica is aimed at restoring the natural balance or homeostasis at the cellular level as well as the overall body and mind level so that Pica is resolved permanently from the roots.
Homeopathy treats every individual as a unique person and therefore the treatment for Pica is customized as per every patient's needs.
That's the extraordinary scope and range of homeopathy!!
There are many Homeopathic medicines which have a promising scope in combating this disorder. A few of those wonderful medicines are:
Alumina: The person has a strong desire to eat chalk, charcoal and excessive craving for raw rice along with loss of normal appetite. He also complains of stomach pain and severe constipation.
Calcarea carb: There is an abnormal craving for indigestible things like chalk, pencils and coal. There is cramping pain in the stomach with constipation.
Cina: The person is angry, cross and irritable. He/she has variable appetite with grinding of teeth. There is pain around navel as if there are worms inside.