WHAT IS ANKYLOSING SPONDYLITIS?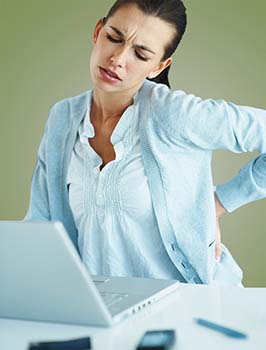 Ankylosing Spondylitis is a kind of arthritis which particularly affects the spine and later other parts of the body, including joints, tendons and eyes.
It is also called 'bamboo spine' in the advanced stages when the joints and muscles of the back bone fuse and looks like a bamboo stick. Click to read on Causes of Ankylosing Spondylitis.
It usually starts at the age of 23 and is more common in males.
WHAT HAPPENS IN ANKYLOSING SPONDYLITIS
Quick Look
Pain in a part of spine or whole back
Backache radiating to hips and knees
Inflammation of muscles attached to bone
Inflammation of the eyes in 40% of people
Click to know more about Symptoms of Ankylosing Spondylitis
WHAT CAN ANKYLOSING SPONDYLITIS LEAD TO?
Fusion of each vertebra, leading to stiff spine with hump on the back
Compression of surrounding nerves giving rise to pain and permanent disability
Also affects heart, lungs, kidneys, eyes and colon
Compression fractures due to weakened bones
HOW WELL HOMOEPATHY WORKS IN ANKYLOSING SPONDYLITIS
Aurum metallicum: Caries of bones and nocturnal bone pains, cannot lean back on chair.
Silicea: Curvature of bones, rickets; here it is often the clearly indicated remedy; there is offensive sweat. Hip-joint disease. Caries after inflammation, worse from cold.
Chininum sulphuricum: Spinal irritation, with great sensitiveness of the spine in the dorsal region. The last cervical and first dorsal vertebrae are sensitive to pressure.
Aesculus: Fullness in various parts, dry, swollen, mucous membranes, flying pains all over. Paralytic feeling in arms, legs, spine.