WHAT IS CONJUNCTIVITIS?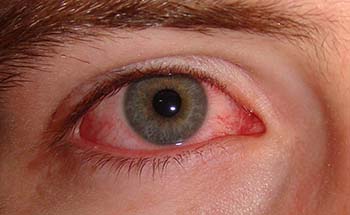 Conjunctivitis, also called "pink eye" is the inflammation or infection of the transparent membrane (conjunctiva) that lines the eyelids and covers the white part of the eyeball.
Conjunctivitis is one of the commonest diseases seen all over the world and allergy and infections are its major contributors. Click to read on Causes of Conjunctivitis.
WHAT HAPPENS IN CONJUNCTIVITIS?
QUICK LOOK
Redness of eye with swelling of eyelids
Pain such as a burning sensation, throbbing or aching in eyes
Watering of eyes
White or yellow discharge from eyes
Gritty feeling in eye
Click to know more about Symptoms of Conjunctivitis
WHAT CAN CONJUNCTIVITIS LEAD TO?
If not treated, Conjunctivitis can complicate into:
Ulcers in the cornea of eye
Inflammation of the middle ear
Pneumonia
HOW WELL HOMEOPATHY WORKS IN CONJUNCTIVITIS
Homeopathy has more than 50 preventive and curative medicines for conjunctivitis that work very well for persons of all ages.
Every remedy is carefully prescribed on the basis of the patient's history and the correct homeopathic medicine can even prevent spread of infection to the 2nd eye. Click to read more about Homeopathic Treatment For Conjunctivitis.
During epidemics too, homoeopathy has a major role in controlling the disease and also it works very well as a preventive in people who are not affected by the disease.
It offers a more holistic approach to the Treatment For Conjunctivitis.
Few of our amazing remedies include:
Apis mellifica: For conjunctivitis associated with oedema and redness of eyelids.
Belladonna: When acute congestion and hypersensitiveness to light and touch is seen.
Pulsatilla: In cases of thick, yellowish discharge from the eye with great sensitiveness to cold air.
Natrum Sulph: One of the best remedies in cases of conjunctivitis in newborn.