WHAT IS CROHN'S DISEASE?
Crohn's disease is an inflammatory bowel disease, which can affect any part of gastrointestinal tract from the mouth to the anus. Crohn's disease is considered to be a type of autoimmune disease.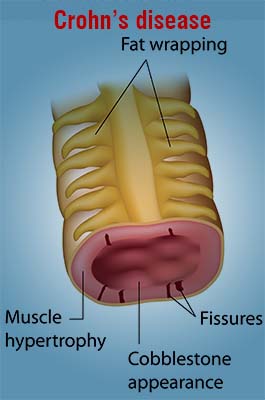 The age of onset is between 15 and 30 years. Still it can occur at any age. Read more about Causes of Crohn's Disease.
In Crohn's disease, symptoms are mostly determined by which area of the digestive tract is affected.
The ileum (last part of small intestine) is involved in approximately 70% of patients with Crohn's disease. It is limited to the colon or large intestine (no ileum, or small bowel involvement) in about 20% of patients.
Homeopathic Treatment and lifestyle adjustments can help you reduce or manage the signs and symptoms of Crohn's disease.
WHAT HAPPENS IN CROHN'S DISEASE?
Quick Look
Abdominal pain
Diarrhea with or without blood
Unexplained Fever
Unexplained Weight loss
Family History of Crohn's Disease
Click to know more about Symptoms of Crohn's Disease.
WHAT CAN CROHN'S DISEASE LEAD TO?
If not treated, Crohn's Disease can complicate into:
Massive hemorrhage : Severe inflammation and ulceration of intestines can lead to massive bleeding.
Mal-absorption : Due to prolonged inflammation of intestines the absorption of nutrients decreases.
Severe peri-anal disease : Crohn's disease causes anal strictures, ano-rectal fistulae, and abscesses.
Intestinal obstruction : Persistent inflammation for several years gradually progresses to fibrostenotic narrowing and stricture. Diarrhea will decrease and eventually lead to chronic bowel obstruction.
Perforation of intestines : Severe inflammation leads to localized wall thinning leading to perforation. Generalized peritonitis may also result from the rupture of an intra abdominal abscess.
Increased risk of developing bowel cancer
.
HOW WELL HOMEOPATHY WORKS IN CROHN'S DISEASE
Crohn's disease is a multisystem disorder. Homeopathy being a Holistic approach helps in every aspect of the illness.
Homeopathic Treatment For Crohn's Disease will give relief in:
Symptoms of disease
Complications of disease
Preventing relapse
Relieving stress
Treatment For Crohn's Disease has more than 100 homeopathic remedies..
Few of our amazing remedies include:
ALOE : Abdomen feels full, heavy, hot, bloated. Pain in abdomen before and during stools. Every morning the patient is driven out of bed to go to the bathroom.
TEREBINTHINIAE : Entero-colitis, with hemorrhage and ulceration of the bowels. Enormous distention of abdomen.
CARBO VEG : Discharge of blood from the rectum. Frequent involuntary stools.