WHAT HAPPENS IN OSTEOARTHRITIS?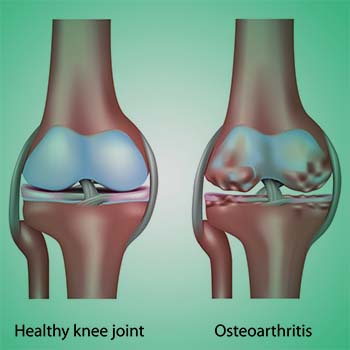 Osteoarthritis or OA is a bone disease due to cartilage loss between the joints. of. It involves following process –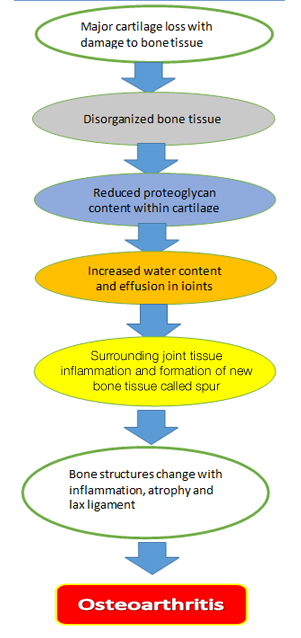 Quick Look
Sharp ache or burning sensation in the joint is the hallmark of OA. Pain increases with cold temperature, high humidity, and pressure changes
Difficulty in moving joints
Stiffness of joints
Crackling noise in the joints called crepitus
Spasms and contractions in tendons of muscles
Extra fluid fills in joints causing swelling around joints
Click to know more about Symptoms of OSTEOARTHRITIS
WHAT CAN OSTEOARTHRITIS LEAD TO?
It can lead to-
Stiffness of joints
Restricted joint movements
Swollen and painful joints
Loss of flexibility of joints
Development of bone spurs which is extra bone formation within the joints
This bone spurs may break & lie freely within the joints causing severe pain and restricted range of motion.
Aches, pain and tenderness cause sleep disturbance, which will make you restless, irritable and also leads to poor work performances with disturbed family life.
HOW WELL HOMEOPATHY WORKS IN OSTEOARTHRITIS
OSTEOARTHRITIS may severely impact your life quality. It may lead to permanent disability hence seek holistic and safest homeopathic treatment at the earliest.
Homeopathy is very efficient in managing symptoms of OSTEOARTHRITIS. It arrests the cartilage erosion at the earliest and rescues you from OA .
Homeopathy is natural, safe and without any side-effects , and one can enjoy complete freedom from OSTEOARTHRITIS.
It strengthens your bones and arrest progress of disease .
Homeopathic treatment for OSTEOARTHRITIS has more than 80 natural, side-effect free remedies in its treasury for the treatment of this condition.
Few of our amazing remedies include:
NATRUM CARBONICA: Very good remedy in OSTEOARTHRITIS where there is easy dislocation and spraining of ankle. Ankle is so weak that it gives away, foot bends under. Associated inability to perform any mental labour.
RANUNCULUS BULBOSUS: Effective remedy for OSTEOARTHRITIS. Muscular pain at shoulder blade margins. Especially affections of women of sedentary employment. Associated burning in small spots.
RHODODENDRON: Wonderful remedy for osteoarthritis with acute inflammatory swelling of joints which is wandering in nature. It is severe at night and worse with rest and during stormy weather. Affections from wet, cold, windy weather. Tearing pain in all the limbs.