WHAT IS INFANTILE COLIC?
Infantile colic is characterized by paroxysms of irritability, fussing or crying lasting for a total of more than 3 hours per day,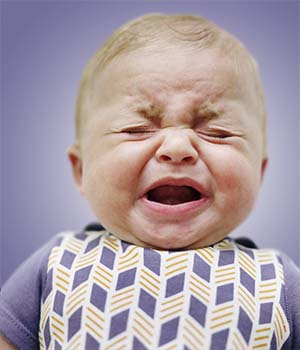 lasting on more than 3 days in a week, for at least 3 weeks. 20% of infants experience colic especially during the first 6 weeks of life until 3 to 4 months of age. This is a mild and self-limiting condition and subsides with appropriate measures.
WHAT HAPPENS IN INFANTILE COLIC?
QUICK LOOK
Occurs from 6 weeks of life and lasts till 3 to 4 months of age
Infantile colic comes on at late afternoons and evenings
Refusal to accepting feeds
Irritability, fussiness, crankiness
Clenching of fists and drawing of knees
Flushed face and body becomes warm
May pass flatus or gas occasionally
No correlation with feeding habits – breast fed and formula fed infants equally affected
WHAT CAN INFANTILE COLIC LEAD TO?
Parental anxiety
Sleep deprivation in infants
Poor maternal infant interaction
Atopy and allergies
Behavioral problems in later life.
HOW CAN HOMEOPATHY HELP IN INFANTILE COLIC?
Homeopathic Treatment is a preferred mode of treatment chosen by most parents today.
Homeopathic medicines for children act at a deeper level and are excellent when it comes to treating illnesses and familial tendencies.
When introduced at an early age, homeopathic medicines help in improving the immune system of the child and modify their constitutional tendencies to a great extent.
These have a long term healing effect on infants and help them in tackling other forthcoming illnesses in their future as well.
Few of our amazing medicines in Homeopathic Treatment For Infantile Colic:
Colocynth: Indicated remedy for colic. There is agonizing pain in the abdomen, causing patient to bend double, better by pressing on abdomen. Crampy, twisting, cutting pains. Patient is better by hard pressure and warmth.
Chamomilla: An oversensitive remedy well suited in children who are extremely irritable, snappish and restless mentally. Sensitivity to pain is very marked. Gripping pain in stomach with red cheeks and hot perspiration. One cheek of the child is red hot and other pale. Worse by heat, anger, open air. Infant feels better when carried. Hot green watery stools, slimy like chopped spinach with colic complaints.
Mag Phos: A great anti-spasmodic remedy for colic pains. Colic severe, forcing patient to bend double, relieved by warmth and rubbing. Flatulence with no relief. Sensitive to touch of clothing.
Lycopodium: Suited to well growing children with huge appetite. Colic with distension after feeds. Complaints get worse from 4 to 8pm. Child feels hungry even when ill. Worse from heat and better by warm drinks, eating, uncovering.