What is Lumbar spondylosis?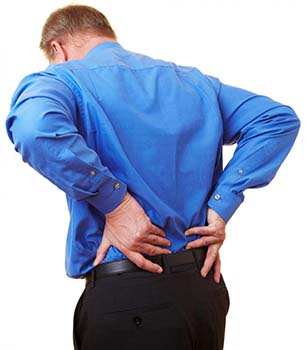 Lumbar Spondylosis is a degenerative joint disorder affecting the lumbar region of spine/lower back. It is one of the most common illnesses affecting the elderly.
The main cause for spondylosis is due to aging and degeneration. In most cases, there are no symptoms and low back pain is the only presentation.
Lumbar spondylosis has no definite cure but can be managed to some extent with right therapeutic measures.
WHAT HAPPENS IN LUMBAR SPONDYLOSIS?
QUICK LOOK:
Common after age of 40
Mild to severe back pain
Stiffness in morning lasting for more than 30 minutes
Pain radiating from lower back to lower limbs
Difficulty in performing daily activities like lifting, bending
Abnormality in posture and gait
Sciatica – Severe pain at the back of the leg proceeding downward till foot
Foot drop – dropping of forefoot due to nerve irritation and weakness
WHAT CAN LUMBAR SPONDYLOSIS LEAD TO?
Spinal Stenosis
Cauda equina syndrome
Prolapsed Intervertebral disc
Disc herniation
Chronic disability
HOW CAN HOMEOPATHY HELP IN LUMBAR SPONDYLOSIS?
Homeopathy system believes in a dynamic approach when it comes to treating illnesses including spondylosis.
Lumbar spondylosis due to degeneration and osteoporotic changes can impair the daily functioning of the patient. Homeopathic medicines work at much significant deeper level of joints and tissues in order to reduce the inflammation and promote healthy healing to a certain extent.
Lumbar spondylosis is an age related illness and has no permanent cure in conventional medicine.
With the help of Homeopathic Treatment for Lumbar Spondylosis , physiotherapy and dietary modifications, patient continue to live a relatively normal life without complications and disability.
Few of our homeopathic remedies for lumbar Spondylosis include:
Bryonia – Joints red swollen hot with stitching type of pain. Pain in back severe with slightest motion aggravating patient's complaints. Pain stitching on pressure, motion and better resting.
Rhus tox – Pain and stiffness in the back region which comes on from sitting, bending, exertion. Sensation as if lying on something hard. Hot swelling of joints with intolerance to cold air and damp weather. Better in warm climate and change of position.
Ruta – Good remedy for back ache with lumbago. Pains worse in morning and better by pressure and lying on back.
Calcarea Phos – Excellent remedy for bone and joint complaints and has marked action on joints, cartilage and tissues. Numbness and soreness in lumbo sacral region as if broken. Stiffness with severe pain with cold numb feeling, worsens from change of weather.
Symphytum - A good remedy for healing of fractures and mending broken bones, non –union of fractures. This remedy stimulates the growth of epithelium on ulcerated surfaces.