Enuresis is a most common problem encountered in millions of children. Most cases are likely to appear in young children and gets less common as a child gets older.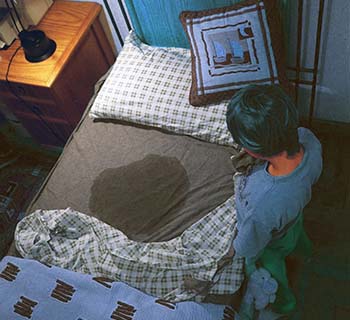 Every child grows and develops in different ways, and gains bladder control at an individual pace. Bladder control during the day is achieved between two and three years of age; and nighttime control by age four. Girls tend to reach bladder control earlier than boys who usually gain control by 5 yrs of age. Many children attain daytime continence whereas still lacking control of bladder during the night. Children who wet the bed beyond the age of five need proper medical attention, love and support for their parents.
Nocturnal Enuresis can generate lot of embarrassment, feelings of guilt and shame and anxiety in the child. Enuresis can produce a deep impact on child's behavior as well his/her social and personal relationships. Sometimes it can lead to certain conflicts with their parents too.
Generally modern medicine will treat the child through medications and behavior therapy. Homeopathy, on other hand will try to evaluate the root cause and treat enuresis from its root by considering the child as a whole. Its individualistic approach will boost the immunity and thereby reduce the severity and reoccurrence of attacks.
Thus treatment of bedwetting (enuresis) is a simple matter with homeopathy. So start treatment at the earliest and enjoy life to the fullest.