WHAT IS PEPTIC ULCER DISEASE?
Ulcer is defined as break in the mucosal surface more than 5 mm in size, with the depth to sub mucosal layer.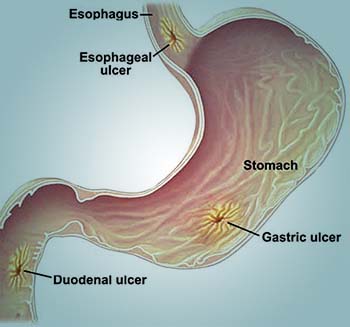 Peptic ulcer is break of mucosal integrity of the stomach and/or duodenum leading to local defect due to active inflammation. Peptic ulcers develop as a result of an imbalance between mucosal protection/repair and aggressive factors. Read more about Causes of Peptic Ulcer Disease.
Peptic ulcer disease includes gastric and duodenal ulcers.
Peptic ulcers are often chronic in nature.
WHAT HAPPENS IN PEPTIC ULCER DISEASE
Quick Look
Abdominal Pain- mainly in Epigastric region
Abdominal Fullness
Heartburn
Waterbrash (Regurgitation of an excessive accumulation of Saliva)
Loss of appetite
Nausea and Vomiting
Hematemesis (Vomiting of blood)
Melena (Tarry or dark sticky stools which contains partly digested blood due to internal bleeding)
Click to know more about Symptoms of Peptic Ulcer Disease
WHAT CAN PEPTIC ULCER LEAD TO?
If untreated Peptic Ulcer disease can lead to-
Gastrointestinal Bleeding: Most common complication of Peptic Ulcer
Perforation: 2nd most common complication of Peptic Ulcer
Gastric Outlet Obstruction: It happens due to persistent inflammation and edema in peri-pyloric region of stomach.
Scar tissue formation: Chronic inflammation and edema causes scar tissue formation.
Penetration: Sometimes ulcer bed invades into adjacent organ
For more details about peptic ulcer complications, click Complication of Peptic Ulcer
HOW WELL HOMEOPATHY WORKS IN PEPTIC ULCER
Homeopathy is the most scientific and comprehensive approach to the treatment of all kinds of illnesses.
Homeopathy assists the body's natural healing process and brings about a relief which is quick, safe and very long-lasting.
Homoeopathic treatment helps in the gentle way to eliminate peptic ulcer disease.
Homeopathy helps in maintaining normal balance between mucosal protection/repair and aggressive factors in treatment for peptic ulcer disease.
Homeopathic treatment for peptic ulcer disease acts on the root cause of the disease which reduces the intensity and frequency of symptoms and relapses.
Few of our amazing remedies include:
HYDRASTIS CANADENSE: Severe pain in stomach after eating with frequent vomiting of food. Sore feeling with weak digestion. Bitter taste in mouth.
IPECAC: Constant nausea and vomiting of yellow mucus. Vomit food, bile, blood. Worse periodically; worse after meat.
KALI CARBONICUM: Burning acidity rising from stomach, with some spasmodic constriction. Bloating, sour eructations and nausea with disgust for food.